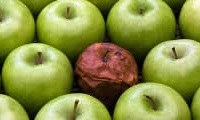 O tender habitat of the world
Please sit and listen to my word
Once touched, get spoilt

One Bad Apple
Sighting afar off, a tree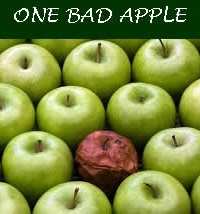 Moving closer, I saw it's three
Whao! What a fantastic sight it was
Suddenly, I was gripped with wants
One red, one green, one yellow
There it hanged, one bad apple
I thought in me, it was time to harvest
Running back home to bring a basket
One after the other I plucked
Hearing the crying voice as I worked
"Dear little Bintu
Please pluck me too"
There it cried, one bad apple
Of course, I knew what had happened
I turned to reply the bad apple
"You gave your beauty to insects when ripen
But now, you have no little value
Oh! What a sweet apple you were
suddenly, nobody could come near"
Again it cried, one bad apple
You and the other apples in the same condition
But why are you in different situation
You have a sour taste
And will become a nasty waste
How I wish I pluck you dear
But I will be punished, that's clear
I cried too, with the one bad apple
Dear little Bintu, that's right
It's certain I will perish before night
But one thing I request
Tell the other apple coming next
Never should they be like me
Tell them the story about me
Weeping, the one bad apple
Oh little bad apple
I will tell them what had happened
I will say it to the world
To listen to my word
Then I carried my basket, heading to the left
Crying bitterly and in pains as I felt
There it decayed, one bad apple
O tender habitat of the world
Please sit and listen to my word
Once touched, get spoilt
Once spoilt, get rot
Learn from the old bad apple
And never let it happen
Say it to the world, the bad apple once said.
Poem by: Eunice Bamgbopa.
Note: don't be a bad apple!
Once touched, get spoilt! Keep yourself pure!
No Sex before Marriage!
And say No to Sexual Abuse!
hit like and share! Check other articles, visit our home page.
We also value your comments.

let's chat on Facebook https://www.facebook.com/ojomupaul
Will you like to get instant updates for new posts? … enter your email address on the sidebar to subscribe.