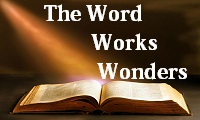 Facts bring fear but the 'Word' (truth) brings faith. Are you facing some challenges in life? It seems there is no hope and you are reaching your elastic limit.
---
The Word Works Wonders
"And it came to pass that as the people pressed him (Jesus) to hear the word of God, he stood by the lake of Gennesaret. And saw two ships standing by the lake: but the fishermen were gone out of them, and were washing their nets. And he entered into one of the ships, which was Simon's, and prayed him that he would thrust out a little from the land. And he sat down, and taught the people out of the ship. Now when he had left speaking, he said unto Simon, Launch out into the deep, and let down your net for a draught. And Simon answering said unto Him, master, we have toiled all the night, and have taken nothing; nevertheless at thy word, I will let down the net. And when they had this done, they inclosed a great multitude of fishes: and their net brake" Luke 5:1-6.
Here we see the contrast between Human experience and the Supernatural power of the word. First of all, I have to appreciate the fact that Peter allowed Jesus to make use of his boat because that was the foundation for his miracle. If you want Jesus to perform a miracle in your life, then you must allow him take over the boat of your life by surrendering your life to Him, accept Him as your personal Lord and savior.
After Jesus had left teaching, he commanded Peter to launch out into the deep, but Peter's first reply was "we have toiled all night, and have taken nothing". That exactly is the problem with so many people today, instead of simple obedience to God's command, they allow their human experience becloud God's plan for their lives, Peter was an expert in fishing technology, all methodology and human strength and efforts failed that night and he had given up hope! A lot of us today have toiled all night without any good result, we give reasons to also justify our failures and eventually have to stop because nothing seems to be coming out of our efforts. Let me quickly tell you "never ever give up" "quitters don't win and winners don't quit".
Thank God Peter did not stop at the excuses but quickly added "nevertheless at thy word I will let down the net" what a great act of Faith! The fact is that they had toiled all night with no result but the Truth is that "at thy word, I will let down the net" Whao! The result was amazing! Bountiful harvest!! The word works wonders!!!
Facts bring fear but the word (truth) brings faith. The fact is that Hannah was barren but the truth is that God gave her a child! The fact is that there is economy downturn but the truth is that my God shall supply all your needs (not according to the depth of our oil well, or central bank or our government, but) according to His riches in glory by Christ Jesus.
Friend, stop elevating your problems above the truth of the word of God. Probably you have been told you cannot make it again in life, they told you your inability to have a very good result will affect you getting a good job, you feel you are getting old and not yet married. The truth is that "with God nothing shall be impossible". Are you there, you have been toiling and laboring for a long time now with nothing to show for it, you cannot pay your fees, feeding is a problem, your business is collapsing, your health is failing, things are not going on well with you, I want to encourage you today to hand over the problem to Jesus. He will work wonders in your life!
Don't focus on your negative situations and circumstances Eccl. 11:4 says "He that observeth the wind shall not sow; and he that regards the clouds shall not reap" don't regard the present wind and cloud, take away your eyes from the problems, don't allow your attention to put you into detention, rather look unto Jesus, the author and finisher of our faith.
Peter said nevertheless, at thy word and that settles it. There is power in the word, the word works wonders. The bible says in the beginning was the word, the word was with God and God was the word.
Friend, the word of God is sharper than two edged sword, His word is a hammer, breaking into pieces every altar of the devil in your life, His word is fire, it will consume every satanic deposit in your life, destroy every household wickedness and set you ablaze for God so that you become untouchable and unstoppable.
Believe the word of God concerning your life. The bible says "He sent his word, and healed them, and delivered them from their destruction"
Everything you ever need in life is wrapped up in the word of God, go for it, it works wonders! 2 Peter 1:3 says "according as his divine power hath given us all things that pertain unto life and godliness, through the knowledge of Him that hath called us to glory and virtue". Everything you need to live a godly life in holiness and truth and to succeed in life has been given to you, so the ball is in your court. You are responsible for your final outcome.
Let the word of God empower your life. You cannot exercise and express faith without the word of God. The bible says 'so then faith cometh by hearing and hearing by the word of God! The word produces faith, so speak the word of God to your situations. Remember that your confession is your possession; the Lord has given you a mouth to talk, Jesus said, "I will give you a mouth and wisdom which all your adversaries shall not be able to gainsay nor resist".
I want you to know that every problem has "ear", there is no situation or circumstances that cannot hear, so speak the word of God to that problem, it will hear and obey. The bible in Psalm 18:44, 45 says "As soon as they hear of me, they shall obey me: the strangers shall submit themselves unto me. The strangers shall fade away, and be afraid out of their close places" remember the wind obeyed the word, the fish that swallowed up Jonah obeyed the word to vomit him, the ground obeyed, light heard the word and quickly obeyed.
Speak the word; it will work miracles and wonders in your life. What you say is what you get. Ask and it shall be given unto you.
SAY TO YOURSELF:
My God shall supply all my need according to his riches in glory by Christ Jesus
The Lord is my shepherd, I shall not want
I shall be the head and not the tail
The eternal God is my refuge, and underneath are His everlasting arms
The chastisement of my peace was upon Him and by His stripes I am healed.
I shall not die but live to declare the glory of the Lord
I am too connected to be frustrated
No weapon formed against me shall prosper.
I will rise, shine for the glory of the Lord God is risen upon me.
Friend, always speak! "Your inability to express yourself is a disaster and the beginning of bad luck".   Read the Word daily, Speak the word daily and Live the word daily!
I want to announce to you that this is your year! It is your turn!
"There is a hand behind the rising of the sun, a hand behind the rising of the moon, a hand behind the rising of the stars, that same hand is right behind you working out your rising"
Your Friend,
Paul Ojomu.
let's chat on Facebook https://www.facebook.com/ojomupaul

hit like and share! Check other articles, visit our home page.
We also value your comments.

Will you like to get instant updates for new posts? … enter your email address on the sidebar to subscribe.