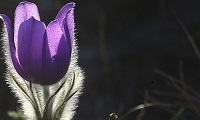 There are so many teachings today about virginity! One guy was telling me the other time how he so much desired to marry a lady that is a virgin like himself, as good as that sounds, it is not the ultimate! I have written a lot about the need to preserve sex for marriage, and wait till you are married before having sex, the truth is that singles should abstain from premarital sex, and the married should abstain from extra-marital affairs, they are not man-made rules, they are commands from God written in the Holy Scriptures! Run from sexual sin! No other sin clearly affects the body as this one does. For sexual immorality is a sin against your own body (1Cor 6:18) and Proverb 6: 32 says But a man who commits adultery has no sense; whoever does so destroys himself. So I'm not in any way undermining the sanctity of virginity!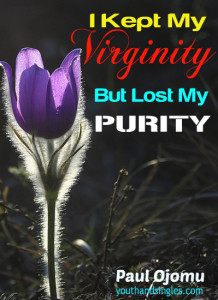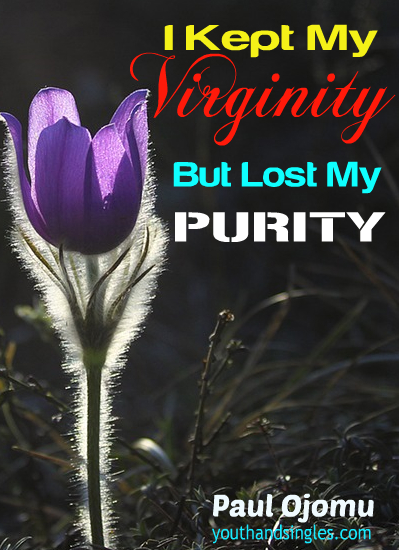 But unfortunately, more emphasis has been laid on virginity at the detriment of purity! Lots of young people believe that virginity and purity are synonymous! Thinking if you are a virgin then you are sexually pure! Hear this! You can be a VIRGIN and STILL BE A FORNICATOR! You can be a virgin and still be guilty of sexual immorality, in other words, YOUR VIRGINITY CAN BE INTACT, whereas YOUR PURITY IS LOST!
Read what Jesus said: But I say, anyone who even looks at a woman with lust has already committed adultery with her in his heart (Mathew 5:28), so you discovered that the issue of fornication/adultery has gone pass virginity! The sin is committed in the heart before the outward manifestation!
Purity is not just about whether you've had sex before or not, Purity is about being sexually pure inwardly and outwardly, PURITY IS NOT AN EVENT, IT'S A LIFESTYLE!
So many youths are only concerned about keeping their virginity (which is good) but less concerned about what they do with their body, so many are still involved in pornography, dry-humping (caressing their bodies with clothes on), masturbating, lustful kissing, homosexuality, sexual imaginations etc… All those sexual activities render you impure, regardless of whether you are a virgin or not!
If you are a virgin, strive not to lose your virginity to anyone other than your husband or wife, if you've lost your virginity, strive not to continue in premarital sex! But above all STRIVE TO BE SEXUALLY PURE AND LIVE A LIFE OF HOLINESS IN ALL RAMIFICATIONS!
Want to have a lifestyle of purity? (Sexual purity and purity in all areas of life) Do the following:
Surrender your life to Jesus; accept Him as your Lord and Saviour. Ask Him to cleanse you from every sin and past sexual immoral life, (check far below for additional guide). This is your very first step, because if you abstain from sex without Jesus in your life, it's tantamount to self – righteousness which is nothing but a filthy rag before God. Jesus is the true source of Holiness.
Study the word of God daily and pray daily! The bible says "How can a young person stay on the path of purity? By living according to your word" Psalm 119:9
Thirst and pray for the baptism of the Holy Spirit! The Holy Spirit will empower your life both for ministry and for purity! See what Apostle Paul wrote in Ephesians 5: 15 So be careful how you live. Live as men who are wise and not foolish. 16 Make the best use of your time. These are sinful days. 17 Do not be foolish. Understand what the Lord wants you to do. 18 Do not get drunk with wine. That leads to wild living. Instead, be filled with the Holy Spirit. 19 Tell of your joy to each other by singing the Songs of David and church songs. Sing in your heart to the Lord. 20 Always give thanks for all things to God the Father in the name of our Lord Jesus Christ.
Abstain from every appearance of evil; Psalm 1: 1-3 "Blessed [fortunate, prosperous, and favored by God] is the man who does not walk in the counsel of the wicked [following their advice and example],
Nor stand in the path of sinners,
Nor sit [down to rest] in the seat of scoffers (ridiculers).
But his delight is in the law of the Lord,
And on His law [His precepts and teachings] he [habitually] meditates day and night.
And he will be like a tree firmly planted [and fed] by streams of water,
Which yields its fruit in its season;
Its leaf does not wither;
And in whatever he does, he prospers [and comes to maturity"
For additional discussion or questions, connect with me directly on Facebook: www.facebook.com/ojomupaul
You can also  like and comment on this page.  Join our group on Facebook:  https://www.facebook.com/groups/youthandsinglesinternational
Are you still struggling to live a pure life?
Read additional articles on this blog
Pornography the way out
My uncle had sex with me
What is really wrong with sex before marriage
Once upon a valentine
I kissed Jezebel
Cynthia must Die but Mercy said No
Friendship with opposite sex
know your worth girl
Know your worth guys
He took off my underwear
And many more…
Do you want to surrender your life to Jesus and pray the simple prayer of salvation? Click here to visit our BEST DECISION PAGE…click here.
I'm Your Friend,
Paul Ojomu.