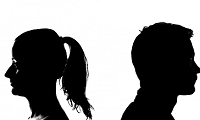 I've seen lots of young guys and girls gone through emotional stress and torture because of a broken relationship.
It is often said that a broken engagement is better than a broken marriage, true as that may sound, it's not equally a palatable experience. The hurt is often so intense (depending on the length of the relationship and commitment) that it leads to mental instability in some people and in extreme cases has led to suicide.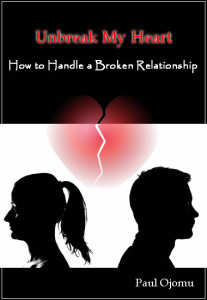 Several tips may help deal with a broken relationship (courtship) as singles, but the greatest cure is the power of God, Mechanics can fix a broken engine, Doctors can sometimes fix a broken bone, IT professionals can fix a broken computer, but only God can fix a broken heart! He is the maker, so it's simple for Him to do the mending! Time may help in the healing, but complete and total recovery with forgiveness is only achievable by the power of the Holy Spirit!
If you are currently passing through the pains of a broken relationship; you've been jilted, cheated, dumped, deceived and manipulated, I want to announce to you that there is a bright light at the end of the tunnel. The bible says there is hope for a tree, even if its cut down, as long as the root is still inside the ground, at the smell of water, it will spring out again!, Cheer up, when there is life there is hope! You don't have to admit that your world has crumbled, you are still very complete! (With Christ, you are complete in Him)
The guy/girl that disappointed you is simply not for you! God has the best for you, it's a matter of time, you will have your own home.
The following tips will help further.
Don't deny what has happened, accept the fact and face it in good faith.
know that it's ok to feel bad about the whole thing, express your emotions rather than bottling it up.
Don't go through it alone, talk to your good friends, family and your pastor about it, they can really be of help in times like this.
Refuse to go into depression, sing your favorite songs, songs of praise, make melodies in your heart and don't allow anyone steal your joy!
Don't dwell on negative thoughts
Encourage yourself and speak positively
Try to avoid the person for the time been if possible, until your heart is healed!
Surround yourself with people that truly love you.
Find out what might have gone wrong in the relationship, do a thorough, objective analysis, if you find out you were wrong, learn from it, and forgive yourself but if you believe your partner was wrong, don't hate him/her, rather forgive him/her and know that you were not meant for each other.
Stop calling him/her like you do before when you two were engaged.
Stop asking people or following up on social media about him/her to know his/her next move.
Get more committed to God, take part in your church activities, stay positive and act positive, the end of a relationship is not the end of life.
Wish your ex well.
Allow time to heal your heartbreak; don't be in a rush to get someone else.
Avoid the "no one is good syndrome", open up yourself to meet new people; don't conclude that all guys/girls are same. Don't over generalise your experience,
Engage in good exercise, it's been proven that exercise helps to reduce stress by releasing serotonin, a chemical that is released whenever we are happy.
Learn from your mistakes (we all make mistakes).
Be more prayerful, cast all your worries on Jesus, seek to love Him more and more
Remain a right person and expect to meet the right person.
Take a good sleep.
Don't continue to brood and ruminate over the whole thing, it only aggravates your depression.
Choose to be happy and move on with your life.
Take the most important decision in your life, it will redefine your relationship and give you a perfect heart! Click here to find out.
Read the scriptures below, they are life boosters! Also you can watch the song video at the end of this article (it will encourage you) "The potter's house" by Tramaine Hawkins

I'm your friend,
Paul Ojomu.
(Paul is a Relationship Coach, and the President of Youth & Singles International)
https://www.facebook.com/ojomupaul

Read and meditate on the following scriptures (read them daily) … below!
Also Pray this prayer in order to give your life totally to Jesus!

"Lord Jesus, I have seen myself as a sinner, I am sorry for all the things I have done wrong in my life (take a few moment to ask His forgiveness for anything particular that is on your conscience). Please forgive me and cleanse me with your blood.
Thank you that you died on the cross for me so that I could be forgiven and set free. I confess and accept Jesus Christ as my personal Lord and Savior. Let all the works of darkness be destroyed in my life.
Thank you Lord for accepting me as your child and for writing my name in the book of life. Thank you Lord Jesus, Thank you heavenly father, in Jesus name I pray (amen)
If you have prayed this prayer wholeheartedly, I want to happily welcome you to God's sweet family. As you have received forgiveness, you must forgive all those that has despitefully used and hurt you. The bible says forgive and you shall be forgiven!
"Therefore if any man be in Christ, he is a new creature: old things are passed away; behold, all things are become new" 2 Cor. 5:17 (KJV)
(please write to us if you prayed that prayer sincerely or if you have further questions or need further counseling – paul@youthandsingles.com)

Psalms 147:3 He heals the brokenhearted and binds up their wounds.
Psalms 34:18 – The LORD [is] nigh unto them that are of a broken heart; and saveth such as be of a contrite spirit.
Isaiah 41:10 – Fear thou not; for I [am] with thee: be not dismayed; for I [am] thy God: I will strengthen thee; yea, I will help thee; yea, I will uphold thee with the right hand of my righteousness.
John 14:27 – Peace I leave with you, my peace I give unto you: not as the world giveth, give I unto you. Let not your heart be troubled, neither let it be afraid.
Psalms 55:22 – Cast thy burden upon the LORD, and he shall sustain thee: he shall never suffer the righteous to be moved.
2 Corinthians 5:7 – For we walk by faith, not by sight
2 Corinthians 12:9 – And he said unto me, My grace is sufficient for thee: for my strength is made perfect in weakness. Most gladly therefore will I rather glory in my infirmities, that the power of Christ may rest upon me.
Matthew 11:28-30 – Come unto me, all [ye] that labour and are heavy laden, and I will give you rest.
Psalms 73:26 My flesh and my heart may fail, but God is the strength of my heart and my portion forever.
Isaiah 41:10 Fear not, for I am with you; be not dismayed, for I am your God; I will strengthen you, I will help you, I will uphold you with my righteous right hand.
Matthew 11:28-30 Come to me, all who labor and are heavy laden, and I will give you rest. Take my yoke upon you, and learn from me, for I am gentle and lowly in heart, and you will find rest for your souls. For my yoke is easy, and my burden is light."
John 14:27 Peace I leave with you; my peace I give to you. Not as the world gives do I give to you. Let not your hearts be troubled, neither let them be afraid.
Psalms 107:20 He sent out his word and healed them, and delivered them from their destruction.
Proverbs 3:5-6 Trust in the LORD with all your heart, and do not lean on your own understanding. In all your ways acknowledge him, and he will make straight your paths.
1 Peter 2:24 He himself bore our sins in his body on the tree, that we might die to sin and live to righteousness. By his wounds you have been healed.
1 Peter 4:19 Therefore let those who suffer according to God's will entrust their souls to a faithful Creator while doing good.
Romans 8:28 And we know that for those who love God all things work together for good, for those who are called according to his purpose.
1 Corinthians 13:7 Love bears all things, believes all things, hopes all things, endures all things.
2 Corinthians 5:6-7 So we are always of good courage. We know that while we are at home in the body we are away from the Lord, for we walk by faith, not by sight.
Philippians 3:13-14 Brothers, I do not consider that I have made it my own. But one thing I do: forgetting what lies behind and straining forward to what lies ahead, I press on toward the goal for the prize of the upward call of God in Christ Jesus.
Hebrews 11:1 Now faith is the substance of things hoped for, the evidence of things not seen.
If you've gone through a broken relationship, let's hear from you, you can be a source of inspirations to others! Use the comment box below
For further counseling and questions, feel free to send an email to paul@youthandsingles.com or use the comment box below (your email will not be published)
Check the home page or recent posts, subscribe to get instant updates
Join us on Facebook https://www.facebook.com/groups/youthandsinglesinternational/
hit like and share! Read other articles, visit our home page.
We value your comments.
Will you like to get instant updates for new posts? … enter your email address on the sidebar or below to subscribe.
The Potters House