Online dating seems like a good idea, bu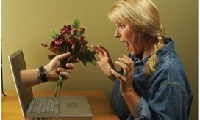 t unfortunately you have to be on your guard for the dangers it poses – and there are more than you think..
The reason for this is because a healthy relationship is based upon observation before involvement. Before you get yourself involved, it is safest to view your interest from a safe distance (i.e., no more than a friendship attachment).
Because online dating does not allow you to actually meet your interest, examine this person in his or her natural habitat and see how he or she interacts with other people on a daily basis, it creates an artificial environment. We all know how sneaky people can be online – it can be worse than meeting someone for the first time in the way they put up false information about themselves in order to seem more attractive than they are.
The other danger of online dating is that it creates a level of intimacy (which isn't always sexual, by the way) that is deeper than what would develop naturally in a face-to-face relationship. This intimacy occurs as a result of simply talking and being vulnerable with each other. You are much more likely to reveal personal information about yourself to someone through the computer or text messaging, because when you aren't face-to-face, you can't feel the other person's reaction, and you feel safer.
The problem is that in this context you don't fully realize that on the other side of that computer screen is the same person you would be talking face-to-face with, and with whom in such a real context you would never have shared that information so soon. So you lay down this information, make yourself vulnerable, and in the end it can come back to bite you.
Conducting an online or over-the-phone relationship puts you in danger of being unable to know the person you are involved with, it can cause you to become more vulnerable with that person than you should, and it skips the friendship stage, leaping right into a level of intimacy that is hard to get out of.
Online dating is deceptive and dangerous

Our society has become accustomed to meeting new people online, and it seems individuals aren't concerned with the dangers associated with online dating.
Adults have led the way of finding online dates and it has caused teens to follow in the dangerous and futile trend. There's nothing wrong chatting online with friends or family, but it's unsafe to meet strange people online and give out personal information.
Searching for a soul mate with a couple of back and forth e-mails or paying a membership to the latest dating Web site is hardly setting the foundation for a solid meaningful relationship.
The Internet is bursting with online predators looking to take advantage of naive people for companionship or sex. Women and young teens seem to be the ones most targeted.
Online dating is an effortless way for individuals to interact without having to go out in society and meet people the old-fashioned way. Meeting people at work, school, church or through community organizations is not obsolete. The traditional way of courting should not take a backseat to filling out a profile and hiding behind a computer screen.
The dangers of online dating begin when people start lying. There is no such thing as a white lie. A lie is a lie. Lying about one's height, weight, age and interests are just a few of the various things people will lie about. Online users are subjected to misleading information from individuals who are afraid to be themselves. They lie as a result.
David Brooks, author of Love, Internet Style, said, "online dating puts structure back into courtship." The statement is far from the truth. Online dating is dangerous and deceptive.
Dangersofdatingonline.com states, online dating statistics show nearly 40 million Americans are using adult online dating Web sites. Why have people become fascinated with chat rooms and dating Web sites? They are unsafe and people get hurt or die every year from meeting strange people on the Internet.
Each year Internet predators commit more than 16,000 abductions, 100 murders and thousands of rapes, according to InternetPredatorStatistics.com. These days, young teens and adults seem to be the ones taking advantage of surfing through hundreds of profiles and looking at pictures of people who might be fake. Children are stalked and led into situations that might cost them their lives.
The Internet can be addictive. If an individual meets someone one night, how does he or she know the person isn't online searching for someone else the next? The risk of being placed in a dangerous situation is minimized when people meet others in a decent environment and have one-on-one interaction.
Online dating is unsafe and can be deadly. Unfortunately, in our society people seek to harm others and one way to do this is through the Internet. Meeting people without the barrier of a computer will put structure back into the courtship process.
Contributions from: Refuge Youth Ministries,a youth group headed under Destiny Christian Center in Syracuse. Other Sources credit: Zoe Grover, Sam Brown, Jimmy Whitaker, Liz Silinpaa.

hit like and share! Check other articles, visit our home page.
We also value your comments.
let's chat on Facebook https://www.facebook.com/ojomupaul

Will you like to get instant updates for new posts? … enter your email address on the sidebar to subscribe.