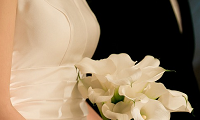 Most mistake single youths make is neglecting the major person while the minor person is chosen at the expense of the right person. Many ministries had died down because of wrong choice of life partner. Even after hearing God's voice regarding the person to team up with and make impact, most singles still go out there to search to their own taste. One thing won't make us to choose wrongly: Obeying God's voice.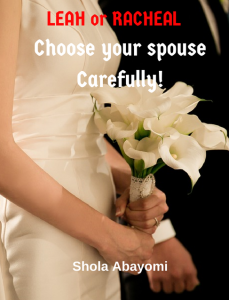 When God gives His word, His seal is there, it is now left for us to strictly adhere to what He says irrespective of the voices around us against His Word. Remember that even though Jacob loved Rachel and preferred her to anyone else because of her beauty and personality, there wouldn't have been Israel without Leah. There wouldn't have been Judah and Levi without Leah. In the actual setting, Leah was the womb designed and prepared by God to carry the Seed embedded in Jacob. If Laban had not done what he did, there would have been a change in the story. It is not about whom you loved or love; it is about whom you will love not just because of their look but because of the impact he or she will make in your life to enhance the fulfilment of your destiny. That is why you as a son of God are not permitted to marry anyhow.
There might be no Laban to manipulate your desire; however, there is a Person better than Laban. He won't manipulate your desire rather He would give you instruction that will mould your decision rightly. He is the Holy Spirit. God never lead His children astray; it is His children WHO choose to follow a stranger's voice that end up being deceived. It doesn't matter how beautiful and attractive your Rachel is, you need the Leah's womb to produce the Seed of destiny embedded in you.
Two things make the difference between those who choose wrongly and those who choose rightly: HEARING GOD'S VOICE AND FOLLOWING HIM STRICTLY AGAINST ALL ODDS. Those who know their God and the Seed embedded in them don't sow anyhow nor just anywhere. The Lady who knows her God and the womb she carries will not dare to marry anything or just any man that comes her way. There is a destination and those who follow God's instruction will get there and be stronger to do exploit. Shalom!!!
Written by: Shola Abayomi
Read other articles by Shola Abayomi
Know Your Worth Girl
Is He/She Good For Me?
Other Articles in the Singles and Searching Series
Who Is Right For Me – vol 3
How To Know The Will Of God In Marriage – Vol 2
The Number One Mistake Singles Make – Vol 1
And other related articles on this Blog
Let's connect
I will like to connect with you, Chat with me on Facebook.  www.facebook.com/ojomupaul
Join our youth and singles group online https://www.facebook.com/groups/youthandsinglesinternational