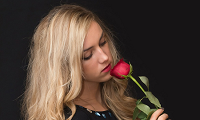 "Sharon, what's your plan for this year's valentine?" Debby asked as she browsed through her phone while stepping out of the school library.
"Hmm, nothing much! Steve and I already planned to go on a date on Valentine's Day" I answered.
"Who is Steve?'' She inquired, raising her eyebrows.
"Oh you mean you've forgotten so soon? Steve was the guy I told you about." When she looked at me with wide hazel eyes, I continued.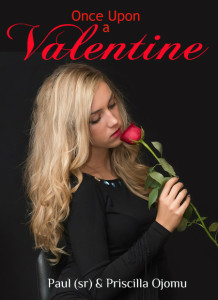 "We met online last month and he will be in town this week, so we decided to finally meet on Valentine's Day"
"Oh, wow! That guy! Well, that's awesome, I guess. Just be safe and have fun" She winked at me and I shook my head in disbelief. Debby forgot things easily but her amazing personality was what made her my best friend.
I asked her what her plans were for Valentine's Day and she took me through her fantasies. That was typical of Debby when we all knew she would be at home on her couch watching TV shows and eating popcorn with her brown hair in a messy bun.
"Okay, Debby. I think you should be careful. Your valentine plans sound too juicy" I remarked as I waved her bye and headed towards my house.
***
"Sharon, we'll all be going somewhere together as a family this Saturday," My father told me as we all sat down on the dining table for dinner. My mom had prepared rice and Thai soup. She was such a great cook and, of course, I assisted her.
"Wait, what?" I asked, pretending not to have heard what he said. I really hoped it was just my imagination. Saturday was Valentine's Day and I had plans that do not need to be disrupted.
"We plan on going exploring here in Toronto as suggested by your brother. Anything the matter?" Mom asked, taking notice of my cringed forehead.
"Oh, okay. Sounds great! And nothing really mom," I said enthusiastically with a tone of sarcasm lying underneath my sentence.
"I was just trying to remember what my biology teacher told me" I lied.
"So, where exactly are we going to on Saturday?" My seven-year-old brother asked with all excitement.
"Well, that's I and your mother's little secret" Dad replied and the whole table burst out into laughter. I just chuckled lightly, as if I'll be going.
I moved from place to place on my bed trying to get comfortable as thoughts filled my mind.
I couldn't miss meeting Steve on Sunday. That would be a bummer since he lives in New York not too far way but it was in America and I resided in Canada so this was our only chance to meet up. This valentine had to be special.
I hugged my pillow tightly, my blonde long hair spreading on the sheet. Steve was the love of my life. He made me feel happy, he understood me. I could confide in him, but there was no way I could explain to my parents that I was going on a date with a guy I met on Facebook.
My parents were strong Christian believers, besides my dad had told me countless of times that I should and could not have a boyfriend, that I should make sure I face my studies. But I've got to enjoy my life.
"All work and no play makes Sharon a dull girl," I said to myself while fondling with my phone and suddenly jumped on the bed as one thought crept into my mind!
"Eureka! I've got it! I knew exactly what to do." I exclaimed. A smirk formed on my face and I opened my period calendar app on my phone. My next period was calculated to be on Sunday, 15th of February!
"What an awesome coincidence" I muttered to myself, smiling and daydreaming about how the valentine day would go with Steve. I couldn't wait for Saturday.
***
It was time for our regular morning prayers on Saturday morning, everybody sat down in the living room except me.
"Sharon, we are all waiting for you," said Sam who came to wake me up.
"Oh, NO I have serious stomach cramps" I snapped at him and tried to get up from my bed. As I fell on the floor with a loud thud. I managed to get to the living room walking like someone carrying a 100kg of lead. I didn't take drama classes at school for nothing.
"Are you okay? My mother asked worriedly.
"It's my stomach again" I responded, my voice cracked.
"Is it your regular monthly thing?" She asked again.
I nodded and sat down.
"You will be fine, dear. Have you taken any analgesics?"
"I will, after the prayers," I said, acting like someone who was really in pain. My brother Sam stared at me clearly not understanding why I was like this once a month. My parents just went on with the prayers.
When it ended, I turned to my mom with a serious yet puppy dog look.
"I don't think I will be able to join the family trip. My stomach hurts badly and I can't move properly" I tried to sound as convincing as I could be.
My mum fell for it and agreed that I will stay at home as they already knew that my mood was always affected anytime I was on my period.
"But you can't stay alone at home,'' My dad said.
"Maybe we should just cancel the trip and we all stay at home," He suggested. My brother's face at that moment fit the perfect description of an angry child.
"You don't have to do that, you can go for your trip. Just the three of you. I'm sixteen dad, I'm not a small girl anymore. I will just sleep and have enough rest at home." I protested.
My father was of the opinion that we should all stay at home, but my mum convinced my dad that I could stay at home since that was not the first time I've stayed at home alone, and more so, the sickness is not something serious, just the usual menstrual pain that will subside with the analgesic drugs and rest, and she understood my mood during such time.
Eventually, my dad agreed that I could stay at home, but they will have to be back on or before eight in the night.
***
"Freedom at last! Happy valentine!" I giggled, watching my dad drive out of our parking lot.
I quickly grabbed my phone and informed Steve he could come pick me up at the park nearby my house. I gave him the address and told him my parents won't be back home until after eight in the night, like they had said. So, any time before eight o clock will be a perfect time to be back.
It was four-thirty and I sat on one of the wooden benches in the park. There were children playing in the playground, birds chirping beautiful songs across the gray and gloomy evening sky, couples cuddling together. Overall, it was an ecstatic mood. I brushed my wavy hair and put it into a ponytail. Popping my red cherry lips, I stood up and moved around in my black dress and red sandals. With the help of Debby, I picked my outfit for today's occasion.
When I was satisfied with the way I looked, I sat down again and sighed. I had been waiting for fifteen minutes now and he still wasn't here. Mumbling some curse words under my breath, I got up to go to the washroom when I bumped into someone.
"Sorry, I'm so sorry" I apologized looking at the person I had stumbled onto. He was tall, muscular and handsome. He took my hands as I stared at him, stunned.
"Sharon? Nice to meet you" He smiled. It warmed my heart and I immediately jumped on him and hugged him.
"Steve!" I squealed and felt his arms against my back.
In what seemed like forever, we finally arrived at our destination. He told me his friends were having a party in their house and he decided to take me there since we were all cool. He was exactly how I imagined him to be in real life. Simply charming.
He opened the door for me being the gentleman he was and I got out of the car. The apartment house before us was tall, cool and urban like. Not to mention the surrounding neighborhood was bursting with life and excitement. I could feel the rush inside of me and felt butterflies in my stomach.
We entered the house and the sound of modern electronic music filled my ear. In the living room people were dancing crazy, different color of lights flashed across the room. I suddenly felt intimidated. I had never gone to a party like this one. I also felt odd like I was the only one fully clothed in here. Steve seemed to notice my discomfort and led me upstairs into a room.
"Hey, no need to be scared. You've got me" He whispered into my ears, shutting the room's door. I slowly gulped and avoided eye contact with him. I looked around the room. It was neatly furnished with a master size bed and bathroom.
"Want to dance?" He asked in a deep masculine voice. He was only seventeen but sounded twenty. I noticed his coat was already off and put aside my handbag with the rose he gave me.
"Sure," I said as he held me by the waist and we moved gently to and fro in the room. He pulled me closer to him and was about to kiss me when I turned the other way. For some reason, I knew I had always wanted this special moment in my life but it just didn't seem and feel right.
He must have been getting frustrated that I wasn't responding to his advances, so he pushed me on the bed. I screamed but he covered my mouth with tape and tied my hands and legs. I wiggled around trying to get free but he slammed me on the wall and left the room.
I cried, my voices muffled under the tape. He later came back with three more fierce looking boys. The music downstairs was getting louder and louder as they approached me.
"What a nice catch. Good job Steve" The one with red dyed hair and piercings laughed, raising my head up to face him. His breath reeked of liquor and his green eyes lit up with terror.
The other one dragged me up and pushed me on the bed. I lay there helplessly unable to move. I couldn't believe this was happening. I turned to look at Steve who looked the other way like he didn't want to be part of this when he, in fact, was the one who brought me here.
"Our little princess is scared?'' Someone said in the room. The guy came on the bed next to me and slapped me across the face.
"No, No, No!!" I yelled but of course, I wasn't heard. I didn't want to be raped. I was only sixteen with a promising future in media arts. This couldn't be happening to me.
As he was about to grab me by my hair, we heard some loud noises from downstairs. They exchanged glances and Steve ran downstairs. Something must have been happening there. Something big as the roaring noise of people shouting overpowered the booming music. Suddenly, Steve rushed back upstairs, panting.
"Jeff has been stabbed" he growled. The other boys rushed downstairs with him living me alone in the poorly lighted room. I used that opportunity to make an escape. I was still tied up so I used the sharp edges of the bed frame to loosen my hands and my feet.
I needed to get out of here but I couldn't see properly and my head ached. I noticed a small ray from light coming from somewhere and looked for the source. It was a window so I opened it. Luckily, there weren't any bars. The wind immediately brushed against my pale skin.
In an attempt to get out, I jumped from the window. Supposedly, it was the third floor; the damage wouldn't be much.
It felt like flying, my hands spread across me. I felt free; one with the wind. Then all turned black, pitch black.
***
I panicked. Everything was white. It smelled like medicinal drugs in here. Where was I? I found the answer to that when I looked around. In a hospital. 'OH, no. I had to get home before my parents' I thought but there was no need for that when I saw them sitting next to me with worried looks plastered on their face. My mom smiled and hugged me.
"I was so worried when I got the call you were here. Sharon dear, what happened?" she asked, tears forming in her weary eyes.
I glanced at my dad. He looked disappointed yet happy that I was awake. It was until I recalled what happened that I broke into tears.
"I'm sorry Dad, Mum. I just wanted to have fun" I told them, placing my hands on my face.
"You should tell God you're sorry. Imagine what could have happened." dad said.
"I missed you, Sharon" Sam said quietly.
I nodded and hugged them. I was lucky to have been alive even if my right leg was cast as a result of injuries from the fall. No, it wasn't just luck. It was by the mercy of God. I seemed to get it now. I could have been raped at sixteen or dead, instead I was alive.
"Dear Jesus, Please forgive me for all my sins. For lying to my parents, disobeying your commandments and going against your will to satisfy earthly pleasures. I'm sorry and from now on, I surrender my life to you. I commit my life to you, Lord" I confessed in a prayer and I felt relieved for once. I indeed felt a burden lifted from me. God gave me a second chance, I wasn't going to waste it.
***
"So, Sharon, what are your plans for valentine's day this Sunday?" Debby asked as we entered the biology lab. "With some hot guy this time?'' She hit me lightly and I laughed.
"Actually, I'm performing at my church's musical on Sunday night and I would love if you would be there," I said.
She stared me down for a second and then smiled.
"Anything for my best friend. I'm really glad, Sharon. Ever since last year's valentine. You've been at your best and stopped being boy crazy. It's like magic" said Debby and looked at me sincerely.
"It's Jesus, He changed my life" I told her and we both laughed joyfully and paid attention to the class lecture.
****
Are you like Sharon, trying to enjoy your present moment at the expense of your eternity? Do not neglect the so great salvation offered by God through the Lord Jesus Christ, You too can pray the simple prayer Sharon prayed and your life will no longer remain the same. If you sincerely prayed that prayer, I want to congratulate you and welcome you to God's family.
Please read our Decision page to learn more. Click here
Your Friends,
Paul Ojomu & Priscilla Ojomu
(This story was jointly written with my teen  daughter, Priscilla)

Connect with me on Facebook:  https://www.facebook.com/ojomupaul
Other similar stories on this blog.
– My uncle had sex with me (true life story)
– Cynthia must die, but Mercy said no
For further counseling and questions, feel free to send an email to paul@youthandsingles.com
or use the comment box below (your email will not be published)
hit like and share! Read other articles, visit our home page.
We also value your comments.
Will you like to get instant updates for new posts? … enter your email address on the side bar or below to subscribe.
Join us on Facebook https://www.facebook.com/groups/youthandsinglesinternational/