Don't be Deceived by the Wrapping Sheet, Check the Content!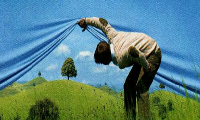 Dumdum met this sister in the fellowship. She is so beautiful, calm and softly spoken. In fact, hearing the sound of her voice felt like chilled water is being poured into one's body.
She had this contagious smile that made everyone she met like her without resistance. She is so charismatic and well articulated. She spoke like a sister that had home training and looked like one that loved and feared God.
Actually, Dumdum concluded that this sister was an embodiment of the Proverbs 31:10 woman. When Dumdum told a brother in the fellowship about this wonderful sister, and the brother asked what was so attractive about her, Dumdum quickly answered that he has seen that she loved and feared the Lord.
All these qualities attracted Brother Dumdum to her. They became friends as they attend Bible studies, prayer meetings and, other fellowship meetings. It was not long before the "me in me" in her manifested. This beautiful, calm, softly spoken, charismatic and well articulated sister unveiled what was inside of her. He never knew what was packaged inside of her; he didn't know the real person. All he saw was a charismatic, beautiful, calm, softly spoken and well articulate sister until he got to know her inner person. Hmmm…what did he see?
He saw a high-class professional manipulator who had mastered the art of manipulation at home using her siblings as training tools. She succeeded in manipulating her parents to see that she was always the victim in any problem she had with her siblings. Her parents fell into her manipulation stratagem to the point that they saw her as an innocent victim that was always bullied by her siblings.
She came into the fellowship with this perfected manipulation skill without allowing God to deal with it and it started working for her because it was a well-tested and strong aged weapon that has favored her in relationships as she always played the victim in any relationship problems she experienced. The contagious smile was also part of the set of manipulation along with the weapon of tears. She used this very well. She manipulated her way as usual when she had a problem with a friend in the fellowship and people saw her as the victim, but the problem is that she has no peace of mind and no rest in her heart. No wonder the Bible says, 'There is no peace for the wicked'. She also doubts God's forgiveness.
After praying and asking God for forgiveness, she still felt that God had not forgiven her. She knew that she had won before men but just cannot win before God whom nothing is hidden from. She had won like Jacob, who deceived his father Isaac by receiving Esau's birth right but now before God has been exposed to face reality as he wrestles with God. She knows the truth about who she was, and this made her doubt God's forgiveness. At this point, she was at a crossroad, either to face the reality of who she really was before men or just to assume that God had forgiven her and that settled it and move on with her life.
This was the sister Brother Dumdum was attracted to. He was attracted by the wrapping sheet of charisma, beauty, calmness, softness of speech and articulation but now tasted the real content of this high classed professional manipulator of a sister. He never knew what was beyond the packaging.
This is my conclusion: not all that glitters is gold as the saying goes. Some are just coppers coated with gold color, but time and circumstances reveal their true color. When you are looking for whom to marry, prayerfully seek for a woman or man that sincerely loves and fears God. Look beyond what you see now! This is because the wrapping sheet will be removed one day, and you will see the real content. Check the content not the wrapping sheet. Don't be deceived by the wrapping sheet, check the content! Be real and stop falling for all this empty packaging and manipulation. Remember Proverbs 31:30 says,
"Charm is deceitful; beauty is fading but a woman that fears the Lord shall be greatly praised".
Written by: Solomon Chukwuemeka Ugbaja
Check out our decision page to make the most important decision in your life, it's the very first step you need to take in order to become a virtuous woman! Click here
Join us on Facebook https://www.facebook.com/groups/youthandsinglesinternational
Remember to drop your comments below
Read other articles on this blog especially on relationships! (over 30 articles)
Know your worth girl
I kissed Jezebel
Why Aren't You Married Yet?
My uncle had sex with me
He took off my underwear
How I lost my Virginity
Friendship with the opposite sex
Single, Saved and Sexual
Games singles play
and many more….
Photo Credit to Stewart Perry