These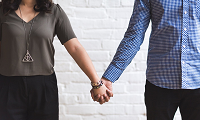 are various short articles written to guide youths especially singles on their marital journey. They are points that require deeper reflections! I hope they will bless your life.
Mind What You Eat!
"It is not everything that looks like food that is edible!"
Remember Adam & Eve! (Read Gen 2:15-17)
Don't do what God ask you not to do!
Be wise!
That's the Pill for today!
Love U!
Get This Right Before Marriage 
If you don't have anything doing, then you don't need a "help meet."
Adam had an assignment in the garden before a woman was introduced to her!
Bro, what are you doing? What's your vision?
Sister, don't follow a man that has no vision for his life!
(Bible passage: Genesis 2:8-17)
Marriage: Whose Idea?
It was God that said, "it is not good that man should be alone."
So, Marriage was God's Idea! He's the author!
He created you, so, He knows what is right and best for you,
Wisdom demands that you allow Him to lead you in your choice of a life partner!
(Read Genesis 2: 18)
The Ultimate Search
Adam was searching for a wife among the animals while naming them
but he couldn't get one! The bible Says there was no one comparable to him! He was searching for a "woman" among the animals! (Read Genesis 2: 18-20 NKJV).
Stop searching for a spouse in a wrong place!
To get the right person: there are conditions attached… wait for the next pill to learn more!
Need a Wife? You need to SLEEP!
Start from pill 4…  When Adam couldn't find a woman among the animals, God caused him to SLEEP!
"If you don't sleep, you can't get the right spouse." Of course, I'm not referring to physical sleep!
You need to "sleep" in absolute surrender to God! You don't depend on your outward feelings! But on your inner eyes and inner convictions! (applicable to ladies too). Study Genesis 2: 21-22. Continue in Pill 6.
The Making of The Woman!
While Adam was asleep, God took a rib from him and formed a woman from it!
Why didn't God create the woman from the dust like He did for Adam, God didn't create
The female Animals from the male. God used the man's rib to show that the man and the woman are two halves of a whole. So, the woman can perfectly feet as a "help Meet" for him.
To have a peaceful home, you must marry your "second half."  Prov 19:14 says "Houses and wealth are inherited from parents, but a prudent wife is from the LORD." (Further reading: Gen. 2: 21-22)
To be continued in Volume 2
Written by:
Paul Ojomu
Let's connect
I will like to connect with you, Chat with me on Facebook.  www.facebook.com/ojomupaul
If you have a personal story you want to share with me, you can add me up on Facebook and inbox me or send an email to me directly:  paul@youthandsingles.com
Join our youth and singles group online https://www.facebook.com/groups/youthandsinglesinternational 
Read other articles on this Blog: (we also want to read your comments).
The Darkest Night, The Cry of an Unborn Child. 
I Kept My Virginity, But Lost My Purity.
How I Lost My Virginity. 
Courtship: What You Need To Know
CYNTHIA Must Die, But MERCY Said No!
He Took Off My Underwear! (girls only)
Pornography: The way out!
The #1 Mistake Singles Make – (Single & Searching Series Vol. 1)
And many more……..