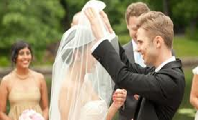 The primary purpose of this book is to encourage young adults and teenagers that are still virgins to value and guard their virginity jealously.
From my observations and experiences during school visitations and interactions with young adults and teenagers both locally and internationally, I have discovered that virginity is no longer valued and even those who are still virgins don't understand the value of what they are carrying. The world has made it seem as if to be a virgin in our time shows a lack of maturity.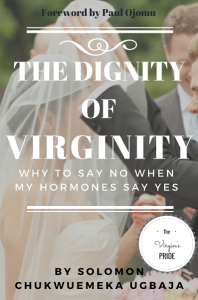 This book will help us to see the need to value and guard our virginity for the purpose of God in this perverse generation. This book explores the reasons why we should say no when our hormones are saying yes.
FOREWORD
In this world of moral decadence and promiscuity, it is possible for young people, especially singles, to have contacts without contamination! The fact that everyone is doing it does not make it right! Premarital sex is a killer and a destroyer of destiny. No wonder the Bible says "Flee fornication."  But the truth is that there are still countless numbers of young people who are still keeping their V-Cards, so if you are a virgin, you are not alone.
Solomon Ugbaja has done an excellent job in compiling this truth that can liberate anyone from the shackles of immorality! The purpose is not to condemn anyone, but to help you fulfill God's purpose for your life! If you are still a virgin, congratulations, this book will help you further, and if per chance you have lost yours before reading this book, don't feel condemned, Jesus loves you, you can still be a virgin of Grace by stopping further acts of fornication and immorality, develop an intimate fellowship with Jesus. Enjoy your reading!
God bless you,
Paul Ojomu
(President, Youth & Singles International)
INTRODUCTION
FACTS ABOUT SEX!
Those who abstain from sexual intercourse before marriage report the highest levels of sexual satisfaction in marriage. (Independent Research Bethesda Research Group –Washington Post 1994)
Those who cohabitate (live together) before marriage have a 50% higher divorce rate than those who do not.
Those who abstain from sexual intercourse before marriage have the highest rates of fidelity in marriage and those who cohabitate have a much higher percentage of infidelity in marriage.(Research by the University of Carolina)
The introduction of sex in a dating relationship almost always ushers in the "break-up" of that relationship.(Dr. Les & Leslie Parrott)
Sexually transmitted diseases (including AIDS) can remain dormant for up to a decade or more; but be passed on to others during that time.It was as if I physically felt a loss. Throughout our years together, he had taken my self-respect, my self-esteem, my pride, my womanhood, my virginity, my capacity for love, and my future and discarded it as "unwanted". Looking back I didn't realize it then, but when I begged him to come back to me, I lost the last drop of myself. After our final break up, I went on to a Christian college and he went his own way….Two years later, I met and married my husband. My husband is the world to me. He is everything I thought my former boyfriend was or was going to be. He is wonderful to me. We have a lovely home, stable income and beautiful young son who is our joy. However, there is a part of me I cannot share with him, because I gave it to my boyfriend back in high school…to me that is the very private, very painful, very tormenting consequence I cannot change. So the point is – there is a price. You may or may not pay with pregnancy or STV/VD, but you will certainly pay….I know God's forgiveness, and I continually pray that He will restore the years the locusts have eaten….Writing this letter has been on my heart for a long time. Please convey the message to teens and college students….The consequences you pay most severely and most personally are paid emotionally.1
Download and read the entire book for free in PDF  (see link below)
The content:
Chapter 1.                 Just one day
Chapter 2.                 Had I known (a true life story)
Chapter 3.                 Premarital sex in courtship
Chapter 4.                 I value God's purpose for my life
Chapter 5.                 God in search of a virgin
Chapter 6.                 Are you a wall or a door?
(The testimony of a virgin on the day of her marriage)
Chapter 7.                 Final charge
DOWNLOAD THE BOOK FOR FREE : CLICK HERE : The Dignity of Virginity
Join our youth and singles group online https://www.facebook.com/groups/youthandsinglesinternational
There are so many other articles on this blog to help you further…
Make the BEST DECISION of your life, click here…
Read additional articles on this blog
know your worth girl
Know your worth guys
He took off my underwear
Pornography the way out
My uncle had sex with me
What is really wrong with sex before marriage
Once upon a valentine
I kissed Jezebel
Cynthia must Die but Mercy said No
Friendship with opposite sex
Number one mistake singles make
And many more…